Consumer Products, Professional Use Items
Proctor Engineering Research & Consulting, Inc., performs examination, evaluation and testing of consumer products and professional use items.

Consumer products, ranging from infant products to products for seniors, are examined for proper design and performance. Typical review includes industrial guidelines, codes and standards compliance, and safety and risk assessment.
Mechanical Engineering and Design Analysis
A sampling of assignments received by Proctor Engineering for consumer and professional use product evaluation are items such as - aluminum, steel and wooden ladders, water skis, ATVs, personal watercraft, garden tillers, wood chippers and shredders, bicycles, mountain bikes, motorized bicycles, kerosene, propane and gas heaters, riding lawnmowers, children's cribs, industrial crushers, auger systems, professional food preparation equipment and industrial machines and components.
Consumer Items
A wide variety of comsumer items have been examined by PERC.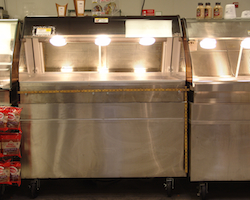 Professional Use Items
In addition to consumer items, Proctor Engineering performs evaluation and testing of professional use items.